Cosmetic Dentist Perry Hall, MD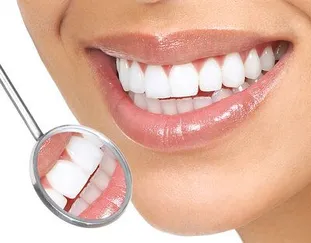 Countless dental surveys ha
ve found that Americans place a very high value on cosmetics and the appearance of their teeth. A nice smile tops the list of the most important features to have along with clear skin, bright eyes and beautiful hair.
Thanks to innovations in cosmetic dentistry, you can get a perfect smile in just a few appointments at Perry Hall Dental Care in Perry Hall, MD.
Dr. Emma Galvan DDS help patients achieve the smile they desire, whether through minor cosmetic treatments to correct small imperfections, or a full smile makeover to drastically change your appearance. We'll help you look and feel your best so you'll be proud to show off your smile!

Any treatment that is performed to improve the look of your teeth falls under the category of cosmetic dentistry. Dental professionals have been administering cosmetic procedures for decades, and in ancient times people used shells, stones and animal bones to create makeshift dental restorations. Today, cosmetic dentistry is a $2.75 billion industry.
Top Cosmetic Treatments
Though patients most often go to the dentist's office because there's an emergency and an urgent problem, some go specifically for a cosmetic solution. Here are some of the top cosmetic treatments used our dental office in Perry Hall, MD:
Veneers
Porcelain inlays, onlays and tooth colored fillings
Cosmetic bonding and contouring
Dental implants
Therapy for a "gummy smile," which is a disproportionate amount of gum tissue and too-small teeth.
Getting Your Perfect Smile
In some cases, your Perry Hall, MD dentist will recommend a combination of cosmetic treatments to help you get your perfect smile. For example, your treatment plan may include Invisalign clear aligners to reposition your teeth and professional whitening to make them look brighter. In some cases your dentist might need to use both veneers and crowns to recreate your smile.
What does cosmetic dentistry focus on?
Cosmetic dentistry primarily focuses on the aesthetics of your smile rather than the health and function of your teeth and gums. It gives patients the smiles they've been looking for, from whitening to recontouring to replacing missing teeth. When you are looking to change the look of your smile, rather minor or drastic, then cosmetic dentistry is the answer.
Do cosmetic dentistry procedures look natural?
From more conservative treatments to more aggressive procedures, cosmetic dentistry can offer anyone a more attractive smile. Advancements in dental technology have also created more natural, tooth-like options and materials than ever before, so no one will ever be able to tell that you have received restorative dental work.


Unhappy with your smile? Cosmetic dentistry is an excellent option for patients looking to revive their smiles. Call Perry Hall Dental Care in Perry Hall, MD at

(410) 256-4720

to learn more about the treatments we offer or to schedule a consultation!